Just last Sunday, my friends and I took a road trip down to the Salton Sea near Palm Springs in southern California. We opted to use a 2017 Honda Pilot as our shuttle of choice, this particular Pilot was featured on the CarVisionLA YouTube channel. In the 500+ miles we drove that day, we learned very quickly the Pilot is a great car for road trips, and now I'm going to explain why.
The rear seats are HUGE!! Even with regular sized people in the front seats, there's still loads of legroom in the Pilot. Although the rear seats don't recline that much, they do slide back a fair amount, which yields plenty of room. There were six full size cup holders in the second row alone, and plenty of storage for external batteries and cell phones in the doors, making the rear seats an excellent road trip experience.
The storage continues to the front seats too. The center console in the 2017 Pilot is super cool; the cover slides into the back, leaving a huge storage compartment between the front seats. When the cover is slid back on, there's a nice platform to hold snacks. The 7-inch infotainment screen in the Pilot is clear, crisp and easy to navigate. The addition of Android Auto and Apple Car Play also really add to the value of the in-car system.
We loved the smooth ride and quiet interior. The Pilot did a great job keeping the road and wind noise out of the cabin. Even cruising at 85mph, the Pilot was calm and collected. Annoying rattles and squeaks can degrade both drivers and passengers on long road trips, and all three of us were delighted at the car's performance.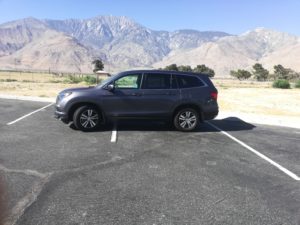 Pilots aren't driver's cars by any stretch of the imagination, but our $38,400 tester was plenty adequate. Its six speed automatic transmission is happy to downshift a couple gears to get up and pass someone on the highway, and the 3.5L V6 loves to rev. Although 280 horsepower doesn't seem impressive (especially for a 4,200lb tank), it's enough to get this family hauler to 60mph in just about 6.5 seconds.
On our trip, we had to fill up twice, with the Pilot averaging 15.7 miles per gallon: a far cry from Honda's claim of 25mpg on the highway.
In conclusion, it's hard to find flaws with the 2017 Honda Pilot as a road trip car. Perhaps in the future we'll compare it to some of its competitors, maybe a Toyota Highlander?
Below is a video summary of all explained in this article.