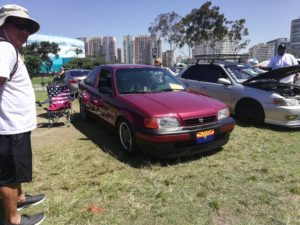 As many of you know, one of my all time favorite cars ever is the 5th generation Toyota Tercel, sold in the US from 1995-1998. That's right, a 25 year old, tiny, cheap, dinky econobox is my favorite car ever, but before you judge me, let me explain.
The Tercel's specs may not seem impressive, their low weight makes their horsepower more than adequate. The 5th gen Tercel came with a Toyota 5E motor which makes around 90 horsepower -half of many cars today. Although that's not much by today's standards, it only weighs 2000 pounds -basically half of cars today also. It's combination of low power and light weightness gives these cars excellent fuel economy -40 MPG on the highway.
Although these cars are inexpensive, it's wrong to call them cheap. These cars were built to last, with most examples over 200,000 miles and some even over 400,000 miles. That's the distance to the moon… and back. Tercels today regularly go for around $1000, with nice examples about $1500.
These cars are also adorable!! Their cute little faces and tidy rear ends spark joy every time I see them. The overall side proportions were modeled after an "e36" BMW 3-series, and boy do they look good. Doesn't it just look happy?
Although these cars are very reliable and rarely fail, parts for Tercels are extraordinarily inexpensive. Engines go for a low $500 and transmissions fly for only $250. The cars were put together simply which makes maintenance and repairs also very simple.
Just recently on my annual trip to Toyotafest, I saw my favorite example of my favorite car ever. With over 420,000 miles, this car still looks factory fresh.
The Toyota Tercel is all the car you'd ever need. It's plenty spacious, plenty quick, plenty inexpensive, very reliable, very adorable, very dependable, very maintainable, and very desirable (to me).