Written by Cody Kinz and edited by Theo Philpot
If you ask an average person what they think of a Corolla, you'll probably get a response like  "My mom has one," or  "What? A Corolla?" What the major majority of people don't know is Toyota made a "high performance" and fun to drive Corolla relatively recently. This Corolla, named the Corolla XRS was produced from 2005 to 2006 and again in 2009 and 2010. The 2005-2006 Corolla XRS had an appearance very similar to the "S" trim, a lower, less performance oriented car. Unlike the "S" trim, the XRS came with a body colored grill, 16 inch wheels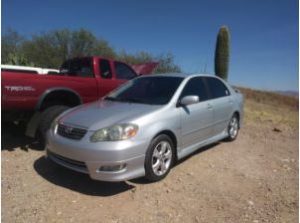 and a more powerful motor. Where as the XRS from the exterior was seemingly no more special than a basic Corolla, it was quite a bit different everywhere else. The interior was much nicer with more comfortable seats with nice black and dark blue fabric. Silver trim replaced the black plastic on lower models. The gauges were clean, with black, white, and red.
Under the hood is where this car really stands out. The XRS is equipped with a naturally aspirated 1.8 liter 2ZZ-GE 4 cylinder, producing 164 horsepower and 125 pound feet of torque. Originally  sourced from the 7th generation Celica GT-S, this motor is also found in some Lotuses. Y
es, that's right. A 12 year old Corolla shares an engine with a Lotus . This motor is known for its VVTL-I system, which is Toyota's variable valve timing and lift intelligence system, similar to Honda's V-TEC. It has a second camshaft profile that engages at 6,800 rpm and continues until it's redline at 8,200 rpm. This makes the engine rev higher, make more power, more torque and save fuel on it's first cam profile.
This means that the XRS can get to 60 mph in just 7.0 seconds, pretty respectable for a Corolla. This engine was mated to an exclusive 6 speed manual transmission that helped keep the car peppy.  With the extra power over the standard Corolla, Toyota had to improve handling to balance out the car, so they gave it a front strut brace, stiffer and lower springs,  and they added fixed rear seats to allow for extra bracing.
Toyota stopped producing the XRS in 2007 and it wasn't made for 3 years until making another appearance on the 2009-2010 Corolla. This time the XRS was no where near as special, no longer having VVT-I or any of the fun, cool, fancy stuff. This was because Toyota used the very conventional 2.4 liter 2AZ-FE 4 cylinder from the Camry. And where as this sounds promising using a 2.4 over a 1.8, it wasn't what it seemed, the only "improvement" was in torque. Instead of 125 pound feet of torque it now made 162, but it dropped 6 horsepower, which meant you could get better performance in a '97 Camry. The new XRS was more than 200 pounds heavier, too. Offered as a 5 speed manual or automatic, the newer XRS's were slower and sloppier than the manual-exclusive earlier ones. The newer cars were slower in every test or track, and only proved that Toyota were losing their sense to make cars for enthusiasts, as if the discontinuation of the Mr2, Celica, and Supra wasn't enough.
The 2005-2006 Corolla XRS was the last hope that Toyota still knew how to make a fun car, with their new line-up of bland and partnered cars. The XRS is the last car we remember from the good old days of Toyota. The XRS was a great car and its a shame that so few were made for such a short period of time; its been an overlooked and forgotten car by most. Act fast if you want one because clean, low mileage examples of these cars are almost extinct, as of now, there are only 3 on Autotrader.com, and with people wrecking them left and right, even that could be a high estimate.