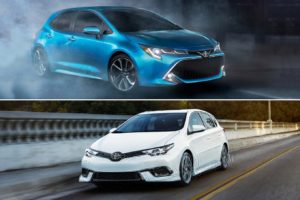 Image: MOTORTREND
The 2018 Toyota Corolla iM is a great car, no doubt about it. It's peppy and sporty styling, and surprisingly big cabin room make it the perfect buy for any small family or daily commuter, except for right now.
To see where iM coming from (see how I did that?), we have to take a look at the future of the Corolla iM. Earlier this week, at the New York International Auto Show, Toyota unveiled the all-new 2019 Corolla Hatchback, the successor to the iM, and it's better in every single way.
This new one's got a brand new 2.0L naturally aspirated 4banger, rumored to be a joint venture with BMW. The old one has a recycled 1.8L, developed in 2006.
The Corolla Hatch is lower, wider, and longer than the previous Corolla. Plus, it offers Apple Car Play and Amazon Alexa Integration. The current Corolla uses a recycled head unit, originally designed for Scions, with no smart nothings. It's got Bluetooth and a touchscreen, but that's about it.
Also included in the new Corolla Hatch is Toyota's new Safety Sense Suite, known as Toyota Safety Sense 2.0 (TSS 2.0). The "old" Corolla only has Toyota's TSS-C, which includes lane departure alert, automatic emergency braking, and automatic high beams.
Although the Corolla iM is a spectacular car, DON'T BUY IT! Wait! The Corolla Hatch hits dealerships in Summer of 2018, so whatever car you're driving, keep driving it if you're considering a Corolla iM because the new Corolla Hatch is better in every measurable way.