When choosing a new or used car, consumers may feel overwhelmed with all the models available to them. There are hundreds of automobile manufacturers, each with many models (Toyota alone has 25 different models). Add onto that every model year, trim, engine configuration and transmission configuration, there are thousands of possible cars to choose from. Luckily, its easy to narrow down your choices dramatically by filtering out cars you're not interested in.
1. Use
First, you have to decide what you're going to use your car for. Are you looking for a reliable family hauler? Perhaps an economical daily driver? Maybe even a fun, weekend car. By doing this, you eliminate thousands of vehicles that don't fulfill your needs. Nobody would buy a Mazda Miata or Subaru BRZ to run a construction business, or a Chevrolet Suburban to race around on the weekend.
2. Type
After you decide what you're going to use your car for, you can choose what type of car you need. Some types of cars can fulfill more than one use, and some uses can be fulfilled with with more than one type of car. Take for example, a Toyota Prius. It's perfect for a city commuter or a small family. Both a minivan or an SUV can haul a family. Kelly Blue Book has a great program that helps prospective buyers decide which type of car is best for them.
3. Cost
New Cars
New cars are expensive. According to a study by J.D. Power, the average MSRP for new 2018 cars sold in January is over $32,000. Its important to understand your budget, account for maintenance, taxes, incentives, depreciation, and resale value. While an MSRP (Manufacturer Suggested Retail Price) gives a good idea as to the price range a car might be in, many dealerships knock off thousands of dollars to make a sale. Make sure to check the manufacturers websites to see what specials they have at the time. Currently, Toyota is offering $3000 off their Prius V and over $1500 off the Corolla iM. Toyota also gives new owners two years or 25,000 miles of free maintenance. If your preferred manufacturer doesn't offer some type of maintenance plan, its a good idea to price one out to see what sort of prices you're looking at. Many owners turn to TrueCar or Costco's car buying program to get the absolute best deal. One price many car buyers oversee is the hidden cost of depreciation. Cars loose value over time, and many loose more than others. Depreciation is the difference between the sale price of the car new and the car being sold as new.  Traditionally, luxury and exotic cars loose more value than more common cars, and Japanese cars seem to hold onto their value better than American or European cars. Those who buy cars and keep them forever are almost immune to depreciation, because they don't sell their cars, so they don't loose money on their sale. On the other hand, if you're planning on selling your car, or trading it in relatively quickly after you get it, you might consider leasing instead of buying. If you lease a car, its not necessary  to worry about losing money on the value of the car, because you'll never actually own it. When deciding between buying and leasing, it's necessary to compute your loss in value using your estimated time of ownership. If its relatively short, consider leasing. If you plan to drive it 'till the wheels fall off, buying is the clear choice.
Used Cars
If you can't afford a new car, used cars are great options. With comparable tech, safety and much more attractive prices, used cars are the right choice for many. These cars have already gotten hit by depreciation, so usually they're substantially cheaper.
Here's a perfect example. A three year old Celestron Silver Metallic Toyota Avalon XLE, listed on Autotrader for $18,511, and a brand new 2018 Avalon for $33,500. Same body style, same engine, same transmission, same color. But the new Avalon is $15,000 more expensive. This particular Avalon has 40,000 miles, but similar cars can be found on Autotrader for around $20,000.
When shopping for a used car, however, its imperative you:
Check the title status, and check for previous accidents. These cars will have a branded title, usually salvage or rebuilt.
Make sure the miles add up. Use a VIN checker, like those available from CarFax. 
Check the condition of the car. Make sure to document all the damage and take this into account when you offer a price.
Used cars may be more difficult to finance, as well. Instead of going through the dealership or manufacturer, you have to go through a private lending party instead.
If you do choose used, don't waste your time going through every online classified site, just go to AutoTempest.com. They look through all the major sites for you, eliminating wasted time and making your search easy.
4. Ratings
With so many different models available, its often difficult to keep your mind straight. Turning to reliable sources for ratings is a must to get the facts straight. Here's a few pointers when it comes to ratings.
Safety
For safety, the government issues their own crash tests, in a division called the National Highway Traffic Safety Association, and results can be viewed at nhtsa.gov. The insurance companies also test cars, through an organization called the IIHS, or Insurance Institute for Highway Safety. If you're looking at a NHTSA (pronounced Nit-Sa) report, the top rating is 5-Stars in all categories, and a 5-star rating overall. The IIHS tests are more extensive and more difficult, and the top ratings from the institute are more valuable. Look for a Top Safety Pick +, which means the vehicle in question has gotten the top rating in all their tests, the two front overlap crashes, side crash, rear crash, and driver assist tests. The list of all 2018 IIHS Top Safety Pick + achievers is available here, on the IIHS website.
Here's the 2018 Toyota Camry. It got "Good" in all 6 crashes, got "Good" for LATCH integration, headlights, and "Superior" for frontal crash prevention. The gold award from the IIHS is displayed above the name of the car.
Quality
For quality reviews, ratings and awards, nobody is more highly regarded than the Consumer Reports. Their subscriptions start at just $7/Month, and their information is the best in the business.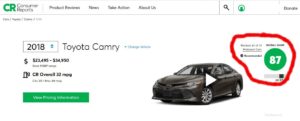 They recommended the Camry, saying it's the #1 out of all the midsize cars, giving it a rating of 87 overall.
Also check for reviews from The Los Angeles Times, The Roadshow, Cars.com, CarAndDriver, Edmunds, Motortrend, and Autoguide, and J.D. Power.
5. Personal Preference
But in the end, you're the one buying the car. If you prefer the Accord over the Camry, and it makes equal sense to buy one over the other, its your choice. If you find the styling of one model atrocious, and the other better, this is your chance to factor that into your decision. Just remember, there are always worse cars, uglier cars, or nastier cars. Your decision is for the best one for you.