Recently I went down to Torrance to visit the Toyota Museum before they moved to Texas with the company headquarters, and while their collection of pristine vintage and contemporary cars is certainly spectacular, they seem to be missing some core models of the Toyota lineup.
It's expected that the museum wouldn't have every model of car,(ex. LFA) either because of financial reasons or issues with storage and having cars properly protected from visitors. (You wouldn't want someone putting fingerprints all over your $400,000 Lexus, now would you). But the three cars I saw missing are very common vehicles, all found on autotrader.com for less than $4,000, so there's no real reason for their absence.
The first vehicle on my list is one you probably see everyday. It's the fourth generation of the Toyota Camry, chassis code XV20.

Here's a screenshot of autotrader.com, showing this white LE for $1,986.
Imagine Toyota without the Camry, it's like an Oreo without the creme.
The second vehicle I saw missing should've been right next to this fourth-gen, it's the fifth generation Camry. With clean examples selling for about $3,000 it's inexcusable to not have one of these sedans in your museum.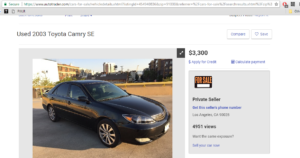 This one's an SE V6, too!
They even have space!
Next to the first, second and third gen Camrys, there's an Avalon parked horizontally, blocking plenty of usable space.  If they straightened out the Avalon, they could easily squeeze two Camrys in there.
The third and final car the museum needs is the second generation Lexus GS. The museum has a pristine first generation GS, and also a 3rd gen, wrapped in a Monopoly theme. The second gen is essential to see the flow of Lexus styling throughout the late 1990's and early 2000's. This model has over 200,000 miles, and still looks showroom fresh, yours for less than $4,000.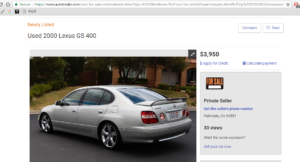 The Toyota USA automotive museum is great place to experience decades of Toyota culture and see pristine, rare and concept models, but for $9,000 used to buy these three cars,  it could perfect.